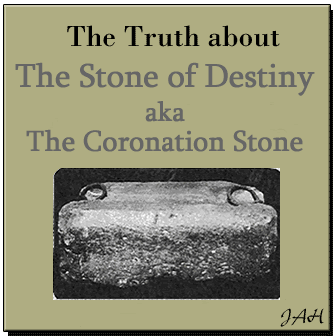 This movie proves that an elaborate and extremely dangerous hoax concerning The Stone of Destiny; which (the hoax) has dire consequences for the British people; has been perpetrated on the British people by the House of Mountbatten.

It is compiled from selected and corrected footage from "The Coronation Stone" by W. H. D. Freeman; the "Stone of Destiny" by E. Raymond Capt and JAH's research that can be found throughout this site, and, in great detail, at the following link:-
The Lia Fail - Bethel - Stone of Destiny - Jacob's Pillar
As a direct result of that hoax and evil deception, perpetrated by the House of Mountbatten, the British people, who consequently refused to accept Christ's Sovereignty over them in 1988, are going to be defeated at Armageddon (Har-Megiddo in Israel) in the Middle-East, and either be killed or enslaved, as a punishment from God. This punishment is for their treachery and treason against Him and His Anointed, in accordance with Psalm 2; Luke 19:27; Revelation 11:7-10 and other Bible prophecies.
To purchase "The Truth about The Stone of Destiny aka Coronation Stone" in VHS/VCD/DVD please email inquiries to

[email protected]
---